School, Window, Doors and Locks Repairs
How does your school benefit?
Low-energy sealed units ('A rated' or 'C rated') to protect pupils, staff and property by reducing the effects of  sunlight.
Energy-efficient products and conservation of fuel and power (Building Regulations Part L).
Appropriately located safety glass (BS6206).
Hinges which allow ample opening for fire escape and fire exit door hardware supplied and fitted.
Fire-break glass for fire doors to ensure compliance.
Restrictors prevent accidental falls from windows.
Fitted with knowledge of security and anti-vandalism security measures.
Peace of mind that any future problems or concerns are rectified or addressed straightaway.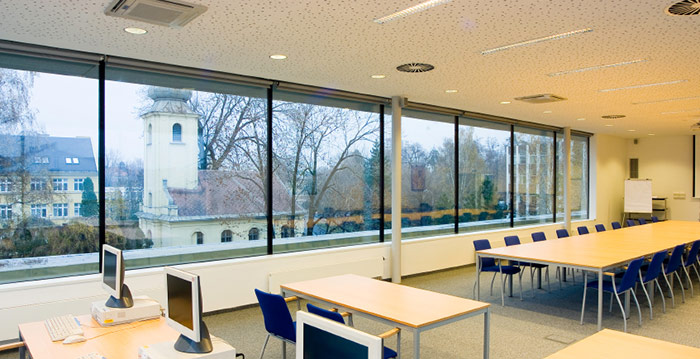 Why Choose Sutton Glazing for your school?
Trustworthy, transparent service from a local company
We work around your teaching requirements where possible
Very competitive pricing
The know-how to suggest practical and secure solutions
Sutton Glazing has built an enviable reputation with local schools for reliable, competitively priced service with across Staffordshire, Shropshire, West Midlands, Warwickshire and other local counties.
Planned Refurbishments for entry points
Our installation specialists can supply and install highly attractive entry points for new school frontages, reception entry points as well as replacement windows for classrooms.
This includes all glazing, locks and doors.  We can also work alongside entry point security specialists and act as principle contractors on work ensuring   Experience working with school managers and bursars across the Midlands means we respect the importance of consistent security and health and safety on site whilst limiting the impact of the work on school life wherever possible.
This includes scheduling work outside of term time and exam periods wherever possible.
Glazing new buildings for schools
We are also able to work for other companies working on contracts to construct new schools, colleges and universities buildings, lecture rooms and classrooms.   If you require specialist windows, doors and locks work as part of a project in the education sector then please call us on 0121 250 3745, 07920 762494 or email us here.
Emergency Repair Call-Outs
We provide 24 hour assistance and effect same day repairs where possible.
Ideal Learning Environments
It is well worth getting windows, locks and doors serviced during cooler months so no problems occur in a sudden heat wave – as was experienced by many schools last year in the UK with pupils and teachers struggling to concentrate.
Teaching union NASUWT has reported that excessive temperatures hamper pupils' ability to learn and teachers' ability to teach.  In a poll the union found that 94% of teachers have experienced temperatures in excess of 24 degrees C, and a third have faced 30 degrees C or above in the classroom.
 Getting In Touch
For more information, free quotations and immediate assistance with emergency repairs call us on 0121 680 3333 or 07920 762 494 or you can email us on our contact form here.